An Invasion of France
"Caesar venit in Galliam summâ diligentiâ."
About twelve o'clock, just as the bell of the packet is tolling a farewell to London Bridge, and warning off the blackguard-boys with the newspapers, who have been shoving Times, Herald, Penny Paul-Pry, Penny Satirist, Flare-up, and other abominations, into your face – just as the bell has tolled, and the Jews, strangers, people-taking-leave-of their families, and blackguard-boys aforesaid, are making a rush for the narrow plank which conducts from the paddle-box of the "Emerald" steamboat unto the quay – you perceive, staggering down Thames Street, those two hackney-coaches, for the arrival of which you have been praying, trembling, hoping, despairing, swearing – sw – , I beg your pardon, I believe the word is not used in polite company – and transpiring, for the last half-hour. Yes, at last, the two coaches draw near, and from thence an awful number of trunks, children, carpet-bags, nursery-maids, hat-boxes, band-boxes, bonnet-boxes, desks, cloaks, and an affectionate wife, are discharged on the quay.
"Elizabeth, take care of Miss Jane," screams that worthy woman, who has been for a fortnight employed in getting this tremendous body of troops and baggage into marching order. "Hicks! Hicks! for heaven's sake mind the babies!" – "George – Edward, sir, if you go near that porter with the trunk, he will tumble down and kill you, you naughty boy! – My love, DO take the cloaks and umbrellas, and give a hand to Fanny and Lucy; and I wish you would speak to the hackney-coachmen, dear, they want fifteen shillings, and count the packages, love – twenty-seven packages, – and bring little Flo; where's little Flo? – Flo! Flo!" – (Flo comes sneaking in; she has been speaking a few parting words to a one-eyed terrier, that sneaks off similarly, landward.)
As when the hawk menaces the hen-roost, in like manner, when such a danger as a voyage menaces a mother, she becomes suddenly endowed with a ferocious presence of mind, and bristling up and screaming in the front of her brood, and in the face of circumstances, succeeds, by her courage, in putting her enemy to flight; in like manner you will always, I think, find your wife (if that lady be good for twopence) shrill, eager, and ill-humored, before, and during a great family move of this nature. Well, the swindling hackney-coachmen are paid, the mother leading on her regiment of little ones, and supported by her auxiliary nurse-maids, are safe in the cabin; – you have counted twenty-six of the twenty-seven parcels, and have them on board, and that horrid man on the paddle-box, who, for twenty minutes past, has been roaring out, now, sir! – says, now, sir, no more.
I never yet knew how a steamer began to move, being always too busy among the trunks and children, for the first half-hour, to mark any of the movements of the vessel. When these private arrangements are made, you find yourself opposite Greenwich (farewell, sweet, sweet whitebait!), and quiet begins to enter your soul. Your wife smiles for the first time these ten days; you pass by plantations of ship-masts, and forests of steam-chimneys; the sailors are singing on board the ships, the bargees salute you with oaths, grins, and phrases facetious and familiar; the man on the paddle-box roars, "Ease her, stop her!" which mysterious words a shrill voice from below repeats, and pipes out, "Ease her, stop her!" in echo; the deck is crowded with groups of figures, and the sun shines over all.
The sun shines over all, and the steward comes up to say, "Lunch, ladies and gentlemen! Will any lady or gentleman please to take anythink?" About a dozen do: boiled beef and pickles, and great red raw Cheshire cheese, tempt the epicure: little dumpy bottles of stout are produced, and fizz and bang about with a spirit one would never have looked for in individuals of their size and stature.
The decks have a strange, look; the people on them, that is. Wives, elderly stout husbands, nurse-maids, and children predominate, of course, in English steamboats. Such may be considered as the distinctive marks of the English gentleman at three or four and forty: two or three of such groups have pitched their camps on the deck. Then there are a number of young men, of whom three or four have allowed their moustaches to BEGIN to grow since last Friday; for they are going "on the Continent," and they look, therefore, as if their upper lips were smeared with snuff.
A danseuse from the opera is on her way to Paris. Followed by her bonne and her little dog, she paces the deck, stepping out, in the real dancer fashion, and ogling all around. How happy the two young Englishmen are, who can speak French, and make up to her: and how all criticise her points and paces! Yonder is a group of young ladies, who are going to Paris to learn how to be governesses: those two splendidly dressed ladies are milliners from the Rue Richelieu, who have just brought over, and disposed of, their cargo of Summer fashions. Here sits the Rev. Mr. Snodgrass with his pupils, whom he is conducting to his establishment, near Boulogne, where, in addition to a classical and mathematical education (washing included), the young gentlemen have the benefit of learning French among the French themselves. Accordingly, the young gentlemen are locked up in a great rickety house, two miles from Boulogne and never see a soul, except the French usher and the cook.
Some few French people are there already, preparing to be ill – (I never shall forget a dreadful sight I once had in the little dark, dirty, six-foot cabin of a Dover steamer. Four gaunt Frenchmen, but for their pantaloons, in the costume of Adam in Paradise, solemnly anointing themselves with some charm against sea-sickness!) – a few Frenchmen are there, but these, for the most part, and with a proper philosophy, go to the fore-cabin of the ship, and you see them on the fore-deck (is that the name for that part of the vessel which is in the region of the bowsprit?) lowering in huge cloaks and caps; snuffy, wretched, pale, and wet; and not jabbering now, as their wont is on shore. I never could fancy the Mounseers formidable at sea.
There are, of course, many Jews on board. Who ever travelled by steamboat, coach, diligence, eilwagen, vetturino, mule-back, or sledge, without meeting some of the wandering race?
By the time these remarks have been made the steward is on the deck again, and dinner is ready: and about two hours after dinner comes tea; and then there is brandy-and-water, which he eagerly presses as a preventive against what may happen; and about this time you pass the Foreland, the wind blowing pretty fresh; and the groups on deck disappear, and your wife, giving you an alarmed look, descends, with her little ones, to the ladies' cabin, and you see the steward and his boys issuing from their den under the paddle-box, with each a heap of round tin vases, like those which are called, I believe, in America, expectoratoons, only these are larger.
*
* *
The wind blows, the water looks greener and more beautiful than ever – ridge by ridge of long white rock passes away. "That's Ramsgit," says the man at the helm; and, presently, "That there's Deal – it's dreadful fallen off since the war;" and "That's Dover, round that there pint, only you can't see it." And, in the meantime, the sun has plumped his hot face into the water, and the moon has shown hers as soon as ever his back is turned, and Mrs. – (the wife in general,) has brought up her children and self from the horrid cabin, in which she says it is impossible to breathe; and the poor little wretches are, by the officious stewardess and smart steward (expectoratoonifer), accommodated with a heap of blankets, pillows, and mattresses, in the midst of which they crawl, as best they may, and from the heaving heap of which are, during the rest of the voyage, heard occasional faint cries, and sounds of puking woe!
Dear, dear Maria! Is this the woman who, anon, braved the jeers and brutal wrath of swindling hackney-coachmen; who repelled the insolence of haggling porters, with a scorn that brought down their demands at least eighteenpence? Is this the woman at whose voice servants tremble; at the sound of whose steps the nursery, ay, and mayhap the parlor, is in order? Look at her now, prostrate, prostrate – no strength has she to speak, scarce power to push to her youngest one – her suffering, struggling Rosa, – to push to her the – the instrumentoon!
In the midst of all these throes and agonies, at which all the passengers, who have their own woes (you yourself – for how can you help them? – you are on your back on a bench, and if you move all is up with you,) are looking on indifferent – one man there is who has been watching you with the utmost care, and bestowing on your helpless family the tenderness that a father denies them. He is a foreigner, and you have been conversing with him, in the course of the morning, in French – which, he says, you speak remarkably well, like a native in fact, and then in English (which, after all, you find is more convenient). What can express your gratitude to this gentleman for all his goodness towards your family and yourself – you talk to him, he has served under the Emperor, and is, for all that, sensible, modest, and well-informed. He speaks, indeed, of his countrymen almost with contempt, and readily admits the superiority of a Briton, on the seas and elsewhere. One loves to meet with such genuine liberality in a foreigner, and respects the man who can sacrifice vanity to truth. This distinguished foreigner has travelled much; he asks whither you are going? – where you stop? if you have a great quantity of luggage on board? – and laughs when he hears of the twenty-seven packages, and hopes you have some friend at the custom-house, who can spare you the monstrous trouble of unpacking that which has taken you weeks to put up. Nine, ten, eleven, the distinguished foreigner is ever at your side; you find him now, perhaps, (with characteristic ingratitude,) something of a bore, but, at least, he has been most tender to the children and their mamma. At last a Boulogne light comes in sight, (you see it over the bows of the vessel, when, having bobbed violently upwards, it sinks swiftly down,) Boulogne harbor is in sight, and the foreigner says, –
The distinguished foreigner says, says he – "Sare, eef you af no 'otel, I sall recommend you, milor, to ze 'Otel Betfort, in ze Quay, sare, close to the bathing-machines and custom-ha-oose. Good bets and fine garten, sare; table-d'hôte, sare, à cinq heures; breakfast, sare, in French or English style; – I am the commissionaire, sare, and vill see to your loggish."
Curse the fellow, for an impudent, swindling, sneaking French humbug! – Your tone instantly changes, and you tell him to go about his business: but at twelve o'clock at night, when the voyage is over, and the custom-house business done, knowing not whither to go, with a wife and fourteen exhausted children, scarce able to stand, and longing for bed, you find yourself, somehow, in the Hôtel Bedford (and you can't be better), and smiling chambermaids carry off your children to snug beds; while smart waiters produce for your honor – a cold fowl, say, and a salad, and a bottle of Bordeaux and Seltzer-water.
*
* *
The morning comes – I don't know a pleasanter feeling than that of waking with the sun shining on objects quite new, and (although you have made the voyage a dozen times,) quite strange. Mrs. X. and you occupy a very light bed, which has a tall canopy of red "percale;" the windows are smartly draped with cheap gaudy calicoes and muslins; there are little mean strips of carpet about the tiled floor of the room, and yet all seems as gay and as comfortable as may be – the sun shines brighter than you have seen it for a year, the sky is a thousand times bluer, and what a cheery clatter of shrill quick French voices comes up from the court-yard under the windows! Bells are jangling; a family, mayhap, is going to Paris, en poste, and wondrous is the jabber of the courier, the postilion, the inn-waiters, and the lookers-on. The landlord calls out for "Quatre biftecks aux pommes pour le trente-trois," – (O my countrymen, I love your tastes and your ways!) – the chambermaid is laughing and says, "Finissez donc, Monsieur Pierre!" (what can they be about?) – a fat Englishman has opened his window violently, and says, "Dee dong, garsong, vooly voo me donny lo sho, ou vooly voo pah?" He has been ringing for half an hour – the last energetic appeal succeeds, and shortly he is enabled to descend to the coffee-room, where, with three hot rolls, grilled ham, cold fowl, and four boiled eggs, he makes what he calls his first French breakfast.
It is a strange, mongrel, merry place, this town of Boulogne; the little French fishermen's children are beautiful, and the little French soldiers, four feet high, red-breeched, with huge pompons on their caps, and brown faces, and clear sharp eyes, look, for all their littleness, far more military and more intelligent than the heavy louts one has seen swaggering about the garrison towns in England. Yonder go a crowd of bare-legged fishermen; there is the town idiot, mocking a woman who is screaming "Fleuve du Tage," at an inn-window, to a harp, and there are the little gamins mocking him. Lo! these seven young ladies, with red hair and green veils, they are from neighboring Albion, and going to bathe. Here comes three Englishmen, habitués evidently of the place, – dandy specimens of our countrymen: one wears a marine dress, another has a shooting dress, a third has a blouse and a pair of guiltless spurs – all have as much hair on the face as nature or art can supply, and all wear their hats very much on one side. Believe me, there is on the face of this world no scamp like an English one, no blackguard like one of these half-gentlemen, so mean, so low, so vulgar, – so ludicrously ignorant and conceited, so desperately heartless and depraved.
But why, my dear sir, get into a passion? – Take things coolly. As the poet has observed, "Those only is gentlemen who behave as sich;" with such, then, consort, be they cobblers or dukes. Don't give us, cries the patriotic reader, any abuse of our fellow-countrymen (anybody else can do that), but rather continue in that good-humored, facetious, descriptive style with which your letter has commenced. – Your remark, sir, is perfectly just, and does honor to your head and excellent heart.
There is little need to give a description of the good town of Boulogne, which, haute and basse, with the new light-house and the new harbor, and the gas-lamps, and the manufactures, and the convents, and the number of English and French residents, and the pillar erected in honor of the grand Armée d'Angleterre, so called because it didn't go to England, have all been excellently described by the facetious Coglan, the learned Dr. Millingen, and by innumerable guide-books besides. A fine thing it is to hear the stout old Frenchmen of Napoleon's time argue how that audacious Corsican would have marched to London, after swallowing Nelson and all his gun-boats, but for cette malheureuse guerre d'Espagne and cette glorieuse campagne d'Autriche, which the gold of Pitt caused to be raised at the Emperor's tail, in order to call him off from the helpless country in his front. Some Frenchmen go farther still, and vow that in Spain they were never beaten at all; indeed, if you read in the Biographie des Hommes du Jour, article "Soult," you will fancy that, with the exception of the disaster at Vittoria, the campaigns in Spain and Portugal were a series of triumphs. Only, by looking at a map, it is observable that Vimeiro is a mortal long way from Toulouse, where, at the end of certain years of victories, we somehow find the honest Marshal. And what then? – he went to Toulouse for the purpose of beating the English there, to be sure; – a known fact, on which comment would be superfluous. However, we shall never get to Paris at this rate; let us break off further palaver, and away at once....
(During this pause, the ingenious reader is kindly requested to pay his bill at the Hotel at Boulogne, to mount the Diligence of Laffitte, Caillard and Company, and to travel for twenty-five hours, amidst much jingling of harness-bells and screaming of postilions.)
*
* *
The French milliner, who occupies one of the corners, begins to remove the greasy pieces of paper which have enveloped her locks during the journey. She withdraws the "Madras" of dubious hue which has bound her head for the last five-and-twenty hours, and replaces it by the black velvet bonnet, which, bobbing against your nose, has hung from the Diligence roof since your departure from Boulogne. The old lady in the opposite corner, who has been sucking bonbons, and smells dreadfully of anisette, arranges her little parcels in that immense basket of abominations which all old women carry in their laps. She rubs her mouth and eyes with her dusty cambric handkerchief, she ties up her nightcap into a little bundle, and replaces it by a more becoming head-piece, covered with withered artificial flowers, and crumpled tags of ribbon; she looks wistfully at the company for an instant, and then places her handkerchief before her mouth: – her eyes roll strangely about for an instant, and you hear a faint clattering noise: the old lady has been getting ready her teeth, which had lain in her basket among the bonbons, pins, oranges, pomatum, bits of cake, lozenges, prayer-books, peppermint-water, copper money, and false hair – stowed away there during the voyage. The Jewish gentleman, who has been so attentive to the milliner during the journey, and is a traveller and bagman by profession, gathers together his various goods. The sallow-faced English lad, who has been drunk ever since we left Boulogne yesterday, and is coming to Paris to pursue the study of medicine, swears that he rejoices to leave the cursed Diligence, is sick of the infernal journey, and d – d glad that the d – d voyage is so nearly over. "Enfin!" says your neighbor, yawning, and inserting an elbow into the mouth of his right and left hand companion, "nous voilà."
NOUS VOILÀ! – We are at Paris! This must account for the removal of the milliner's curl-papers, and the fixing of the old lady's teeth. – Since the last relais, the Diligence has been travelling with extraordinary speed. The postilion cracks his terrible whip, and screams shrilly. The conductor blows incessantly on his horn, the bells of the harness, the bumping and ringing of the wheels and chains, and the clatter of the great hoofs of the heavy snorting Norman stallions, have wondrously increased within this, the last ten minutes; and the Diligence, which has been proceeding hitherto at the rate of a league in an hour, now dashes gallantly forward, as if it would traverse at least six miles in the same space of time. Thus it is, when Sir Robert maketh a speech at Saint Stephen's – he useth his strength at the beginning, only, and the end. He gallopeth at the commencement; in the middle he lingers; at the close, again, he rouses the House, which has fallen asleep; he cracketh the whip of his satire; he shouts the shout of his patriotism; and, urging his eloquence to its roughest canter, awakens the sleepers, and inspires the weary, until men say, What a wondrous orator! What a capital coach! We will ride henceforth in it, and in no other!
But, behold us at Paris! The Diligence has reached a rude-looking gate, or grille, flanked by two lodges; the French Kings of old made their entry by this gate; some of the hottest battles of the late revolution were fought before it. At present, it is blocked by carts and peasants, and a busy crowd of men, in green, examining the packages before they enter, probing the straw with long needles. It is the Barrier of St. Denis, and the green men are the customs'-men of the city of Paris. If you are a countryman, who would introduce a cow into the metropolis, the city demands twenty-four francs for such a privilege: if you have a hundredweight of tallow-candles, you must, previously, disburse three francs: if a drove of hogs, nine francs per whole hog: but upon these subjects Mr. Bulwer, Mrs. Trollope, and other writers, have already enlightened the public. In the present instance, after a momentary pause, one of the men in green mounts by the side of the conductor, and the ponderous vehicle pursues its journey.
The street which we enter, that of the Faubourg St. Denis, presents a strange contrast to the dark uniformity of a London street, where everything, in the dingy and smoky atmosphere, looks as though it were painted in India-ink – black houses, black passengers, and black sky. Here, on the contrary, is a thousand times more life and color. Before you, shining in the sun, is a long glistening line of gutter, – not a very pleasing object in a city, but in a picture invaluable. On each side are houses of all dimensions and hues; some but of one story; some as high as the tower of Babel. From these the haberdashers (and this is their favorite street) flaunt long strips of gaudy calicoes, which give a strange air of rude gayety to the street. Milk-women, with a little crowd of gossips round each, are, at this early hour of morning, selling the chief material of the Parisian café-au-lait. Gay wine-shops, painted red, and smartly decorated with vines and gilded railings, are filled with workmen taking their morning's draught. That gloomy-looking prison on your right is a prison for women; once it was a convent for Lazarists: a thousand unfortunate individuals of the softer sex now occupy that mansion: they bake, as we find in the guide-books, the bread of all the other prisons; they mend and wash the shirts and stockings of all the other prisoners; they make hooks-and-eyes and phosphorus-boxes, and they attend chapel every Sunday: – if occupation can help them, sure they have enough of it. Was it not a great stroke of the legislature to superintend the morals and linen at once, and thus keep these poor creatures continually mending? – But we have passed the prison long ago, and are at the Porte St. Denis itself.
There is only time to take a hasty glance as we pass: it commemorates some of the wonderful feats of arms of Ludovicus Magnus, and abounds in ponderous allegories – nymphs, and river-gods, and pyramids crowned with fleurs-de-lis; Louis passing over the Rhine in triumph, and the Dutch Lion giving up the ghost, in the year of our Lord 1672. The Dutch Lion revived, and overcame the man some years afterwards; but of this fact, singularly enough, the inscriptions make no mention. Passing, then, round the gate, and not under it (after the general custom, in respect of triumphal arches), you cross the boulevard, which gives a glimpse of trees and sunshine, and gleaming white buildings; then, dashing down the Rue de Bourbon Villeneuve, a dirty street, which seems interminable, and the Rue St. Eustache, the conductor gives a last blast on his horn, and the great vehicle clatters into the court-yard, where the journey is destined to conclude.
If there was a noise before of screaming postilions and cracked horns, it was nothing to the Babel-like clatter which greets us now. We are in a great court, which Hajji Baba would call the father of Diligences. Half a dozen other coaches arrive at the same minute – no light affairs, like your English vehicles, but ponderous machines, containing fifteen passengers inside, more in the cabriolet, and vast towers of luggage on the roof: others are loading: the yard is filled with passengers coming or departing; – bustling porters and screaming commissionaires. These latter seize you as you descend from your place, – twenty cards are thrust into your hand, and as many voices, jabbering with inconceivable swiftness, shriek into your ear, "Dis way, sare; are you for ze Otel of Rhin? Hôtel de l'Amirauté! – Hotel Bristol, sare! – Monsieur, l'Hôtel de Lille? Sacr-rrré nom de Dieu, laissez passer ce petit, monsieur! Ow mosh loggish ave you, sare?"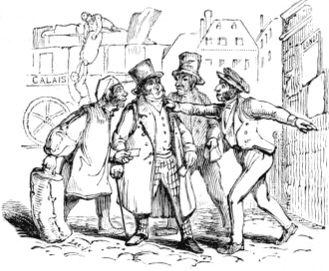 And now, if you are a stranger in Paris, listen to the words of Titmarsh. – If you cannot speak a syllable of French, and love English comfort, clean rooms, breakfasts, and waiters; if you would have plentiful dinners, and are not particular (as how should you be?) concerning wine; if, in this foreign country, you will have your English companions, your porter, your friend, and your brandy-and-water – do not listen to any of these commissioner fellows, but with your best English accent, shout out boldly, "MEURICE!" and straightway a man will step forward to conduct you to the Rue de Rivoli.
Here you will find apartments at any price: a very neat room, for instance, for three francs daily; an English breakfast of eternal boiled eggs, or grilled ham; a nondescript dinner, profuse but cold; and a society which will rejoice your heart. Here are young gentlemen from the universities; young merchants on a lark; large families of nine daughters, with fat father and mother; officers of dragoons, and lawyers' clerks. The last time we dined at "Meurice's" we hobbed and nobbed with no less a person than Mr. Moses, the celebrated bailiff of Chancery Lane; Lord Brougham was on his right, and a clergyman's lady, with a train of white-haired girls, sat on his left, wonderfully taken with the diamond rings of the fascinating stranger!
It is, as you will perceive, an admirable way to see Paris, especially if you spend your days reading the English papers at Galignani's, as many of our foreign tourists do.
But all this is promiscuous, and not to the purpose. If, – to continue on the subject of hotel choosing, – if you love quiet, heavy bills, and the best table-d'hôte in the city, go, O stranger! to the "Hôtel des Princes;" it is close to the Boulevard, and convenient for Frascati's. The "Hôtel Mirabeau" possesses scarcely less attraction; but of this you will find, in Mr. Bulwer's "Autobiography of Pelham," a faithful and complete account. "Lawson's Hotel" has likewise its merits, as also the "Hôtel de Lille," which may be described as a "second chop" Meurice.
If you are a poor student come to study the humanities, or the pleasant art of amputation, cross the water forthwith, and proceed to the "Hôtel Corneille," near the Odéon, or others of its species; there are many where you can live royally (until you economize by going into lodgings) on four francs a day; and where, if by any strange chance you are desirous for a while to get rid of your countrymen, you will find that they scarcely ever penetrate.
But above all, O my countrymen! shun boarding-houses, especially if you have ladies in your train; or ponder well, and examine the characters of the keepers thereof, before you lead your innocent daughters, and their mamma, into places so dangerous. In the first place, you have bad dinners; and, secondly, bad company. If you play cards, you are very likely playing with a swindler; if you dance, you dance with a –– person with whom you had better have nothing to do.
Note (which ladies are requested not to read). – In one of these establishments, daily advertised as most eligible for English, a friend of the writer lived. A lady, who had passed for some time as the wife of one of the inmates, suddenly changed her husband and name, her original husband remaining in the house, and saluting her by her new title.