Benjamin
Jonson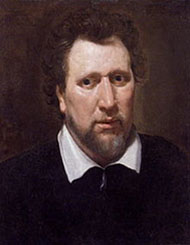 Benjamin Jonson (1572-1637) was an English playwright and actor. Author of famous comedies such as [Volpone->artXXX], The Alchemist, "The devil is an ass", "Bartholomew Fair", he is widely considered to be one of the greatest Elizabethan and English Renaissance writers. He was in his lifetime a famous rival of William Shakespeare, inclined to controversy and eager for fame.
Ben Jonson's biography
Apparently, Ben Jonson descends from a Scottish family. He never knew his father (his father died one month after his birth) and his mother remarried to a master bricklayer. Jonson attended school in Saint Martin's lane and then at Westminster School. He did not go to University, never enjoyed the trade of brick-laying, enrolled in the army and then fought in the Low Countries. He married to a woman whom he described as "a shrew, but honest". In 1597 he was in London, probably actor, or trying his luck writing plays. In 1599, he had already written a few comedies, including "Every man in his humour" and "The case is altered". By 1599, he had already been thrown in jail twice, first for the offences caused by his play "The Isle of dogs", and the second time for killing someone in a duel. He then converted to Catholicism. In 1598 "Every man in his humour" had been a success, and apparently included Shakespeare as one of the actors. Never shy of controversies, Jonson had issues and feuds, mainly with John Marston and Thomas Dekker. During the reign of James I, Jonson started writing masques which then were very much in fashion. But his problems with authority did not stop here. He was questioned by the Privy council for his Play "Sejanus", dealing with corruption in the Roman Empire, which they had felt was a theme a little too close to home. He also had some obscure involvement with many conspirators of the Gunpowder plot, but was not sent to jail this time. Then came fame and success with [Volpone->artXXX]in 1606, The Alchemist in 1610, "Bartholomew Fair" in 1614, "The devil is an ass" in 1616. Still, contrarily to Shakespeare, Jonson always struggled with money. In the 1620s, he carried on writing till the end but never achieved the same success than the one he had known in the previous years. He died on 6 August 1637. He is buried inside Westminster Abbey.
Ben Jonson's unique style
Far from Shakespearan comedies, lighter, romantic, with their plots involving love and foreign locations, Ben Jonson's comedies were harsher, cruder, aimed to use a language "such as men do use", he will remain best known for the sheer intricacy of his stories, and especially the cruelty of situations which he describes, always aiming to denounce the ugly side of human nature through the use of satire, sometimes verging on the absurd. Revered in the Seventeenth century alongside Shakespeare, he remains one of the greatest English playwrights, and also one of the most controversial. Coleridge is known as saying that The Alchemist has one of the most perfect plots of English literature. [Volpone->artXXX]'s influence crossed borders. It was rewritten by Stefan Zweig and Jules Romains, and staged in 1928. Les Éditions de Londres have no doubt the uniqueness and the strength of Jonson's satirical comedies exerted a major influence on British humour.
Ben Jonson, a symbol of Elizabethan theatre?
Elizabethan theatre refers to the plays produced during the period from 1567, when "The Red Lion" was opened, until 1642, when the Puritans decided to close all the theatres... At the time, England was going through a Renaissance, and theatres, often in competition with each other for the custom of theatre-goers and also of the Court, were very popular, so popular it has been calculated around 1,500 plays were produced over less than 70 years (of which we still have about 600 of them), most of them the work of playwrights of modest backgrounds. The most famous names are William Shakespeare (although he was not such a towering figure at the time, but rather one of many), Christopher Marlowe, Ben Jonson, Edward de Vere, Robert Greene... One of the reasons so many of the plays were lost is that few of them were ever printed (actually around 600, which does match the number of those plays which survived). Elizabethan theatre does not only evoke numerous playwrights (many of them also actors) from modest backgrounds, large production of plays, but is also synonymous with many famous theatres such The Globe, the Swan, the Red Lion, the Blackfriars theatre... and playing companies such as the King's men, the Admiral's men, the Lord Chamberlain's men...
© 2013- Les Éditions de Londres
Livres publiés
par Benjamin Jonson

ISBN : 978-1-909053-99-1
Date de parution : 21 juin 2013
Nombre de pages : 199 pages

"Volpone" is a comedy written and produced in 1606 by Ben Jonson. It remains one of the greatest satirical comedies ever written, and this is why we've chosen it as our first classic English comedy publication. Volpone is a wealthy Venitian man obsessed with money, and consumed with greed. He and Mosca his (...)

En savoir plus

par Benjamin Jonson

ISBN : 978-1-909782-33-4
Date de parution : 17 novembre 2013
Nombre de pages : 295 pages

"The Alchemist" is a comedy written by Ben Jonson and performed in 1610 by the King's men. Created four years after Volpone, "The Alchemist" is widely considered to be Ben Jonson's best comedy. Following an outbreak of the plague in London, a gentleman's house falls into the hands of two (...)

En savoir plus